We all know that coloring is one of the best pass time activities for kids. Can you just forget that idea for a moment!
In this busy world, where every single thing around us is stressful and uncomfortable, all we need is doing something relaxing and soothing.. I think you got my point!!
Oh yeah! Coloring is
NOT ONLY FOR KIDS.
At the beginning of 2015, coloring books producers started targeting Grown Ups, and began producing colouring books for them.
We are talking about
Adult Coloring Books
,
these are some intricately designed books, and they are created to help adults to get rid of stress and pressure and also to improve the focus of their mind.
Hephzibah Kaplan, director at the London Art Therapy Centre said: "When choosing a colouring-in book with more complex or abstract images the convention is generally to keep different colours within different lines. This requires a relaxed focus where the outline is containing and the mark-making repetitive and smooth. So a bit like repeating a mantra where repetition is a means to relaxation, colouring-in is also a type of mediation."
She added: "Meditation, whether secular or otherwise, has known benefits to mind, body and spirit. When focusing deeply on a simple yet safe task, other anxieties become less present, less pervasive."
Here is our choice of the best coloring books for adult, those will take you for sure to another place where you will feel calm and happiness after a stressful day.



1- Adult Coloring Book: Stress Relieving Animal Designs:
Adult Coloring Book: Stress Relieving Animal Designs is a stress-relieving and a perfect gift for animal lovers and people that need a little stress relief in their live. It provides illustrations and designs, from jungle cats to birds of paradise to creatures of the sea.
Adult Coloring Book: Stress Relieving Animal Designs is a collection of a bunch of breathtaking and inspirung desihns that will take you to another place.
Reviews:
Pros:
" artistic drawings."
"each page has a blank back which is great so that your markers do not bleed through onto another picture. "
"Has a mixture of extremely detailed pictures and slightly less detailed ones which is a nice variety to have."


" unique designs, and is made well."


"There is a large variety sizes and styles to the pictures and the designs are breathtaking."
Cons:
2-

Secret Garden: An Inky Treasure Hunt and Coloring Book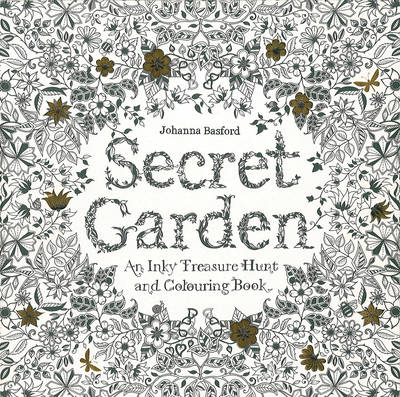 To add more entertainment, there are some creatures which are hidden on the pages, waiting to be found, and a key and index are included in the back.
Appealing to all ages, SECRET GARDEN is the original and first book by Johanna Basford.
Reviews:
Pros:
"Beautiful drawings."
"The book itself, uncolored, is gorgeous. I want to buy a second copy just to have on my bookshelf"
"LOVE this book, can't say it enough!"
"It's a book full of amazing and beautifully detailed pictures that are very fun to color."
"Beautiful designs and good quality of paper."
Cons:
"Too bad the production of this is on thin paper and the art is double sided."




3-

Lost Ocean: An Inky Adventure and Coloring Book
It features a bunch of intricate pen and ink designs to complet. Readers will find group of exotic fish, curious octopuses, and delicately penned seahorses. Secret Garden and Enchanted Forest fans and newcomers alike will welcome this creative journey into an inky new world.
The paper used accentuates and compliments your chosen color palette. The pages allow for beautiful blending or gradient techniques with colored pencils or are perfect for pens, allowing the nib to glide evenly over the surface without feathering.
Reviews:
Pros:
"Another Fantastic Coloring Journey – this time into the Ocean Deep"
"I love the detailed images!."
"I, for one, love the paper."
"Lost Ocean is my favorite of her books so far."
"other illustrations include repeating patterns that help you zen out.
"Oh my goodness I just got my copy of Lost Ocean today and it is absolutely stunning! -"
"inspired drawings!"
Cons:
There are many intricate illustrations that were scaled down dramatically
.



4-

Adult Coloring Books: A Coloring Book for Adults Featuring Mandalas and Henna Inspired Flowers, Animals, and Paisley Patterns
Get rid of everyday distractions and unwind with intricate illustrations that will keep you focused and entertained. Images in this book vary from minimal detail to highly detailed, making it perfect for markers, fine tip pens, and color pencils.
Reviews:
Pros:
"Captivating, Complex and intricately detailed, you will want to color every single picture in this book! Printed one per page!"
"Neat paper"
"Not as pix-elated as similar"
"Some great designs"
"Nice Variety"
"There is a great variety of patterns."
Cons:
5- Adult Coloring Book: Stress Relieving Patterns
6- Balance (Angie's Extreme Stress Menders Volume 1)
Coloring time is calming time! Best selling coloring book artist Angie Grace invites you to relax and explore the intricate and exquisite world of stress mending circular whimsical art. Stroke by stroke, shade by shade, tension and worries fade away as you transform Angie's beautiful black and white lines into your own unique, personal and beautiful keepsake art piece.
This book has been drawn for connoisseur colorists and is suitable for adults and older children coloring with fine tipped markers, colored pencils or brush tipped markers. 50 delightfully detailed original designs printed on one side of the page.